Day 5 in Munich is getting off to a slow start. It's been a wonderful meandering experience with very few firm plans other than nightly drinking with a great group of folks of all ages and origins brought together under a common love of travel, fun, and our gracious host, Bill Laughlin.
I'm not as ambitious as Mark with his very enjoyable daily blog entries from our final destination, Dinan, France. I thought I would write a bit more, but as we overheard from a weary Canadian Tuesday morning (still dressed in lederhosen from the night before), "Europe is exhausting, eh?!"
We left home on Saturday afternoon and started off the trip with a delicious Boulevard Wheat beer and our traditionally shared meals in the airport restaurant in KC.  Figured we may as well start practicing for Oktoberfest. We arrived in Munich early Sunday morning.  We were pleased with how easy it was to get from the airport to our rented apartment, just a block down from the UBahn train station.
The apartment is a little shabbier than we had hoped, but larger than expected, too, and with such a great location, we could hardly complain.  Just 5 minutes walk from the English Gardens, 15 minutes walk from Marienplatz city center (5 minutes by train), and 2 minutes from one of the best Italian restaurants I've ever been to.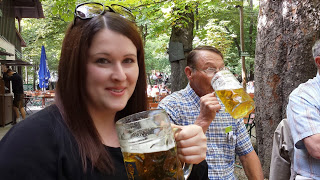 We dropped off our bags, freshened up & headed out to the glockenspiel in Marienplatz to meet Bill
for the traditional D&P (drinking and pissing) welcome party at the Augustiner beer garden.  Everything about the rest of that day is embarrassingly blurry, but I'm fairly sure Bill tried to kill us with pear schnapps and beers bigger than our heads which seemed to get heavier with each sip.  Tiberius tried to warn us about his dad's lethal form of hospitality the following day, but it was too late.
Monday we did our best to come back from the dead and also searched for dirndls with limited success. I found a really cute one for 80 euro but Marcie couldn't find one she liked under 250euro.
We had our first taste of Oktoberfest that evening.  Imagine the biggest carnival you've seen and take that times 50.  Carnival rides and games, vendors selling everything from stuffed animals, hats, steins, and roasted chickens, sausages of every size and flavor, dumplings, pastries, roasted nuts… and you really can't comprehend the massive, elaborate beer "tents" until you've seen them.  These monstrosities can seat up to 10,000 people and take 2 months to set up each year.  They are complete with fully functioning kitchens and blissfully clean and efficient plumbing.
It seemed we had hardly closed our eyes Monday night when it was time to meet up with our tour group for Neuschwanstein & Linderhof castles.  These castles were built in the 1800s by "Mad King" Ludwig II.  It obvious to see why Disney was inspired by these castles.  The castles and the villages and lakes and mountains we saw were so amazingly perfect that they deserve their own blog entry.